*                     Birth of the SUN                  *

A few years ago I became a Blogger on the topic of Economic Collapse.  I did not start my own Blog back then, rather I blogged on Message Boards and Forums concerning themselves with the topics of Economic collapse and Energy Depletion issues, most specifically the PeakOil.com message board.  I migrated around quite a bit over the intervening time, to OPBs (Other People's Blogs) and my own little Yahoo Group Reverse Engineering before setting up the Blog & Forum Doomstead Diner in 2012 with my friend Peter and a few other friends I got to know over the years of Collapse Chat on the internet.
At first I saw the problem mainly through the lens of Economic Collapse of a Monetary System, I had not back then really worked through yet all the problems which accrue from that, particularly once you factor in Energy Resource Depletion.  At first I thought of it something like the Great Depression of the 1930s, but after not too long I saw that the problems were much greater now because of Population Overshoot and depleted Energy Resources.  At first I thought like many still do even inside the Collapse Community that we could Reverse Engineer to some earlier technologies like Railroads and Sail, and develop a Sustainable Living paradigm from that.  I no longer think so, for a variety of reasons too complex to go into here.
At a certain point in this timeline, not sure precisely when, I realized that simply writing about what was occurring was not sufficient, something more active and constructive was necessary.  After many long discussions with friends on the Diner, we developed the idea of the SUN Project.  It is built around the concept of Community Action on the small to medium scale.  Large Government structures are no longer either responsive to the real needs of people, nor are they very effective in meeting them either.  One Kludge after another is dropped into place to keep the system we have running another day, but it is living on Borrowed Time.  It is a difficult thing to accept that the way of life we have known here with easy travel by car and jet plane will not persist, harder still to grasp that within many of our lifetimes we likely will not have electricity on demand either.  Again, the reasons why this is so are deep and complex, though over time here on SUN we will make further explanations of the problems involved.  Not today though in this introduction to SUN.
Creating a structure to harbor resources and Develop Community in our current environment is very difficult.  People come from widely disparate economic means, and for most people it is economically out of reach to buy their own patch of land, grow their own food and try to live by more sustainable methods.  Even if you DO have means though, and Individual "Doomstead" is not in itself really a very sustainable paradigm.  You require quite a few people working in Cooperation to make any type of Sustainable System for Homo Sapiens, just on the lowest level of being able to Protect and Defend your patch of land you need quite a few.  So early on in our discussion our core members pitched the idea of small Doomsteads in favor of trying to build a larger Community, with many people involved. The problem here is that in our fractured society as it stands, bringing together many people of disparate means and life experience is pretty difficult.  The Infant Project of SUN is designed to try to overcome these problems.
The first and biggest problem for most is one of MONEY, they just don't have much (in fact quite often NONE).  So Fundraising is Primary as a goal to make SUN a reality, and to do that we formed our 501c3 Non-Profit corporation, Sustaining Universal Needs.  We created a membership system that allows people to "buy in" at a nominal cost, or to gain similar membership through "Sweat Equity", working to build the organization in numerous ways.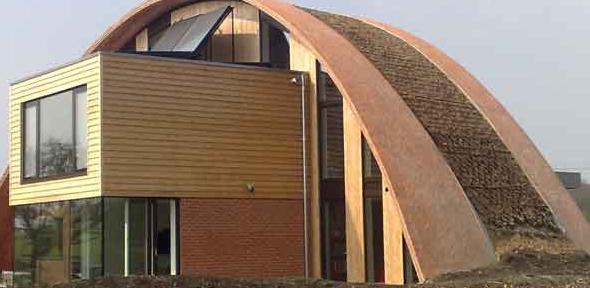 The paradigm for living is one much simpler and less dependent on energy input than the current one, which includes much more simple housing as well.  Mostly we do not believe in putting up permanent structures for housing, but rather smaller and more portable ones.  This is not to say we think everybody should be living in Tents either though!  There is a middle ground to be struck here which is sustainable, and still has a decent amount of Creature Comforts most of us are used to.  Even if some of these middle ground housing arrangements are not long term sustainable, they are less energy intensive and can hopefully provide a bridge toward long term sustainable living.
Similarly, though long term it may be impossible to keep Electrical systems working, that does not necessarily mean you can't keep some electricity working in your community some of the time, even if your local electrical grid goes down.  Most of us would prefer not to give up this marvelous invention of the Industrial society sooner than we absolutely have to.
The greatest problems faced are in terms of Food & Water Security.  Access to these most basic needs for life is essential, and in a failure of our larger system of Just In Time delivery and the monetary system that serves to distribute these products, it is necessary to build your own resilient local system to replace that.  Here on SUN, we seek to find and develop the best means for doing that with the lowest energy inputs possible and least damage to the surrounding environment possible.  This is ongoing work for SUN members at all levels.
In the end, the goal is to disseminate the knowledge, to teach more people to be self sufficient while at the same time securing our own needs in this world.  Following beneath this page you will find the Prospectus for the SUN Non Profit, its directions and goal, its means and methods as we begin to change our way of living, together.  We hope to find many more people through the SUN Website who will join with us in this project and contribute what they can as they can to its success.
No Man is an Island.  There are hard times ahead, and though the society at large probably will not change direction until it is too late, Individuals and small communities CAN come together to make the necessary changes.  Read through our Prospectus if this interests you, and talk with us.  Help us to pave the way to a Better Tomorrow.
RE
For Whom the Bell Tolls
XVII. MEDITATION.
PERCHANCE he for whom this bell tolls may be so ill, as that he knows not it tolls for him; and perchance I may think myself so much better than I am, as that they who are about me, and see my state, may have caused it to toll for me, and I know not that. The church is Catholic, universal, so are all her actions; all that she does belongs to all. When she baptizes a child, that action concerns me; for that child is thereby connected to that body which is my head too, and ingrafted into that body whereof I am a member. And when she buries a man, that action concerns me: all mankind is of one author, and is one volume; when one man dies, one chapter is not torn out of the book, but translated into a better language; and every chapter must be so translated; God employs several translators; some pieces are translated by age, some by sickness, some by war, some by justice; but God's hand is in every translation, and his hand shall bind up all our scattered leaves again for that library where every book shall lie open to one another. As therefore the bell that rings to a sermon calls not upon the preacher only, but upon the congregation to come, so this bell calls us all; but how much more me, who am brought so near the door by this sickness. There was a contention as far as a suit (in which both piety and dignity, religion and estimation, were mingled), which of the religious orders should ring to prayers first in the morning; and it was determined, that they should ring first that rose earliest. If we understand aright the dignity of this bell that tolls for our evening prayer, we would be glad to make it ours by rising early, in that application, that it might be ours as well as his, whose indeed it is. The bell doth toll for him that thinks it doth; and though it intermit again, yet from that minute that that occasion wrought upon him, he is united to God. Who casts not up his eye to the sun when it rises? but who takes off his eye from a comet when that breaks out? Who bends not his ear to any bell which upon any occasion rings? but who can remove it from that bell which is passing a piece of himself out of this world?
No man is an island, entire of itself; every man is a piece of the continent, a part of the main. If a clod be washed away by the sea, Europe is the less, as well as if a promontory were, as well as if a manor of thy friend's or of thine own were: any man's death diminishes me, because I am involved in mankind, and therefore never send to know for whom the bells tolls; it tolls for thee. Neither can we call this a begging of misery, or a borrowing of misery, as though we were not miserable enough of ourselves, but must fetch in more from the next house, in taking upon us the misery of our neighbours. Truly it were an excusable covetousness if we did, for affliction is a treasure, and scarce any man hath enough of it. No man hath affliction enough that is not matured and ripened by and made fit for God by that affliction. If a man carry treasure in bullion, or in a wedge of gold, and have none coined into current money, his treasure will not defray him as he travels. Tribulation is treasure in the nature of it, but it is not current money in the use of it, except we get nearer and nearer our home, heaven, by it. Another man may be sick too, and sick to death, and this affliction may lie in his bowels, as gold in a mine, and be of no use to him; but this bell, that tells me of his affliction, digs out and applies that gold to me: if by this consideration of another's danger I take mine own into contemplation, and so secure myself, by making my recourse to my God, who is our only security.