From A.G. Gelbert
Vermont SUN State Representative
Categories: Renewable Energy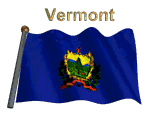 Vermont is now Number 7 in Renewable Energy Efforts. We went down a few notches from last year but we are the ONLY state with a 90% Renewable Energy electric grid penetration target for 2050. Since it is decades distant, I think it is too slow but that's just me.
I think we can do it faster, go to 100% instead of 90%, AND do that for TRANSPORTATION as well!
What's the rush, you might ask.Global Climate Catastrophe is the rush! For Homo SAP, it's DO or DIE in the next few decades!


I am trying to help by writing about Renewable Energy and living frugally in a home of less than 1,000 square feet with my wife and cat, push mowing and hand snow shoveling, driving less than 2,000 miles a YEAR (until I can get an EV) and exposing fossil fuel and nuclear industry mendacity, duplicity and self serving propaganda designed to undermine the transition to Renewable Energy from the dirty, poisonous, biosphere killing energy we foolishly pigged out on in the last 150 years.
Here are the latest Renewable Energy Goals here.
Vermont Renewable Energy group sets 7-year-goal
Posted: 10/29/2013
SOUTH BURLINGTON (AP) – A group that represents Vermont's renewable energy businesses wants the state to get 20 percent of its energy from renewable sources by 2020.
On Tuesday, the board of directors of Renewable Energy Vermont laid out the goal of "20 by 2020″ at the organization's annual conference in South Burlington.
Vermont currently gets about 11 percent of its total energy from renewable sources, such as wind, solar or biomass.
The group's board chair Martha Staskus says the effort to reach the goal will create jobs and reduce the use of fossil fuels.
Vermont's long-term energy plan calls for the state to get 90 percent of its energy from renewable sources by 2050.
To meet the 2020 goal, would require a combination of expanding sources of renewable energy and savings.
http://www.reformer.com/morelocalnews/ci_24409099/vermont-renewable-energy-group-sets-7-year-goal
Starting with an article from July 2013, "The Most Solar-Friendly States in the US", here's how Vermont stacks up in comparison to other states:
SNIPPET:
Vermont won recognition in 2011 for its groundbreaking streamlined solar permitting rules, emphasizing residential and small solar installations, which it expanded in 2012. (The state's solar "registration" process, rather than "permitting," is described in an interview with AllEarth Renewables' David Blittersdorf.)
Interestingly, Vermont is also at the forefront of the net metering debate. A report earlier this year found that solar net metering is a net-positive for the state, even with a state incentive factored in, and not including any tangential economic multipliers. Similar reports, and conclusions, have been published for California, New York, and Texas.
Unlike the other top 12 states, Vermont does not have a formal RPS policy; rather it has "goals" of 20 percent of electricity retail sales from renewable energy and combined heat/power by 2017 as part of a Sustainably Priced Energy Enterprise Development (SPEED) program. Beyond that, the state has targets for each providers' annual electricity of 55 percent of retail sales in 2017, increasing 4 percent a year until reaching 75 percent by 2032.
Rank 'Em: The Most Solar-Friendly States in the US

Vermont Has excellent Solar investment incentives.

Quantifying State-Policy Incentives for the Renewable Energy Investor
Sreenivas
http://web.ornl.gov/sci/electricdelivery/pdfs/VERDE_IEEE_ECCE_Policy_Paper__Version_4.pdf
Quantifying State-Policy Incentives for the Renewable Energy Investor
Sreenivas
http://web.ornl.gov/sci/electricdelivery/pdfs/VERDE_IEEE_ECCE_Policy_Paper__Version_4.pdf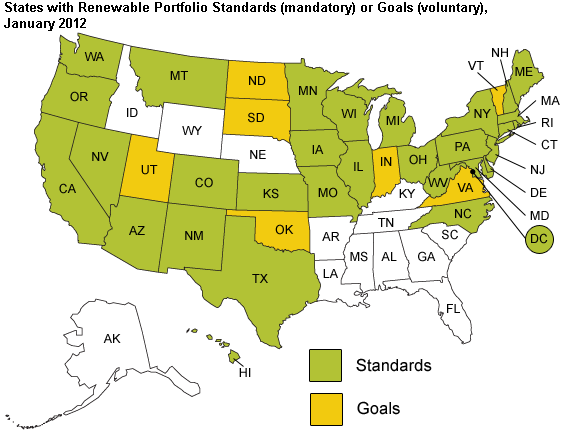 There is a large buzz about a wood pellet outfit in Rutland that Senator Sanders visited recently. The goal is to knock out heating oil use in the state with pellets made from renewable energy that is NOT from old growth or commercial value wood. I hope they start looking at hemp as a biomass source but they haven't yet, as far as I know.
Pellets can be made from many fast growing plants (Duckweed too!). It's time we let the forests be fruitful and multiply again!
I will provide more details on the above periodically but you can see that Vermont's name, "The GREEN Mountain state", applies to our embrace of renewable energy even though the name originated long ago.
Reverend Dr. Peters was the first to call Vermont the Green Mountain State during an address in 1761. While he is the established reason for Green Mountain State becoming the state's nickname, the word Vermont actually comes from the French for "green mountain," verd mont. This name was given to the state by Samuel de Champlain, a French explorer who visited Vermont in 1609. It appeared on a map in 1647, after Champlain's death, which may have been the cause for Reverend Dr. Peters to use it during his famous address. Technically speaking, the name Green Mountain State really comes from the fact that the Green Mountains run down the entire length of the state.
http://www.wisegeek.com/why-is-vermont-called-the-green-mountain-state.htm[/size]